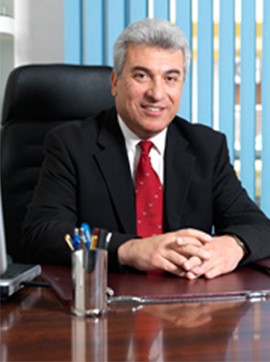 Dr. Ioannis N. Theodorakis
I was born in Heraklion, Crete. My father Nikolaos Theodorakis and my mother Maria Zourari.
I finished the 17th Elementary School of Heraklion and the 1st Gymnasium of Heraklion (Kapetanakeio), immediately after I migrated to study in Munich, Germany.
I studied for 2 semesters at the Studienkolleg München and I graduated with "Excellent".
I studied medicine at LUDWIG – MAXIMILLIANS – UNIVERSITAET with a Bavarian scholarship programme and I graduated with excellent, obtaining my medical license.
I did my Urology specialty training at the Hospital of University of Munich (KLINIKUM GROSSHADERN), initially under the direction of Prof.DR.MED. EGBERT SCHMIEDT and then under his successor PROF.DR.MED. ALFONS HOFSTETTER.
After 5 years of training and obtaining the specialty of Urology, I was elected a curator of the Urology Clinic and the Transplantation Department (PROF.DR.MED.W.LAND) of the Surgery Clinic (DIRECTOR PROF.DR.MED.CHILDBERG) for 12 years.
In September 2002, I founded the new Urological Department of General Clinic of Thessaloniki, equipped with the latest technology with the application of modern urology techniques.